FAST FORWARD 2020
Screening: 14/12/2020 / 22:00h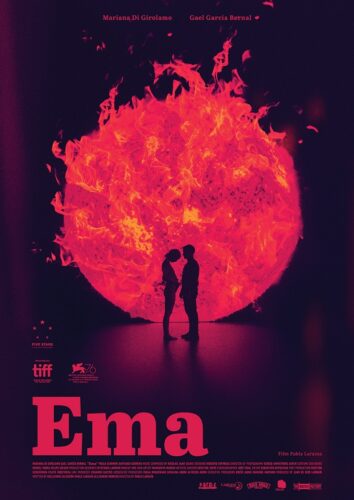 Pablo Larraín / Chile / 2019 / 107′
Director: Pablo Larraín
Screenplay: Guillermo Calderón, Pablo Larraín, Alejandro Moreno
Editor: Sebastián Sepúlveda
Cinematographer: Sergio Armstrong
Sound: Marco Aliaga, Soledad Andrade, Pablo Bahamond, Mauricio Castañeda, Nathaly Martinez, Salomé Román, Roberto Zuñiga
Music: Nicolas Jaar
Production: Fabula
Producer: Juan de Dios Larraín
Starring: Mariana Di Girólamo, Gael García Bernal, Santiago Cabrera, Paola Giannini, Cristián Suárez, Giannina Fruttero, etc.
SYNOPSIS
Ema is a woman of wild energy. The introductory frame of the film is just a warning of what follows: something anarchic, a bit vandalistic, full of energy, but ultimately exhausting and chronically unreal. The visuals are paralyzing, and the dance scenes are captivating. In the port city of Valparaiso, Ema and her husband, a choreographer, adopted a boy named Paul, who turned out to have a problem similar to Emma's pyromania. Their lives are thrown into chaos when their son Polo is involved in a shockingly violent incident.
ABOUT THE AUTHOR
Pablo Larraín is born in 1976, in Chile. Along with Sebastián Lelio, he is one the leading film directors of Chile, as well as a major producer. His films are straight forward, generally rather aggressive and violent. He is famous for his portrayal of his country, Chile, during the three notable periods of its national history, shown through the trilogy Post Mortem – Tony Manero – No. A recurring theme in his work is search for identity, while a very distinct angle under which his protagonists are seen and analysed remains its notable characteristic. The audience of the 2016 FAST FORWARD Festival had the opportunity to watch his film Neruda.
FESTIVALS and awards
Miami Film Festival 2020 – Alacran Music in Film Award
Luxembourg City Film Festival 2020
FEST 2020
Ljubljana International Film Festival 2019 – Art Cinema Network of Slovenia award
San Sebastian International Film Festival 2019
Venice Film Festival 2019 –UNIMED award and nominations for Golden Lion and Queer Lion