FAST FORWARD 2019 / Projections:
11/12/2019 / 19:00h / Montenegrin National Theatre – Studio Scene / Podgorica
12/12/2019 / 19:00h / Cultural Centre Berane / Berane
14/12/2019 / 20:00h / Cinema Boka / Kotor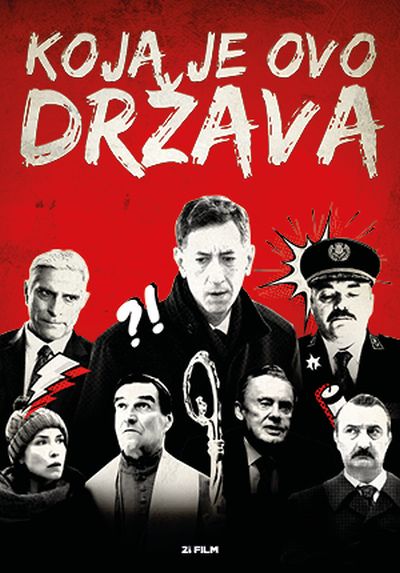 Vinko Brešan / Croatia / 2019 / 118′
Director: Vinko Brešan
Screenplay: Mate Matišić
Editor: Sandra Botica Brešan
Sound: Bartosz Putkiewicz
Production: Inter film, Orka Productions Studio, Zillion Film
Producers: Ivan Maloča
Starring: Iva Mihalić, Alma Prica, Lazar Ristovski, Krešimir Mikić, Ksenija Marinković, Goran Bogdan, Sebastian Cavazza, Zdenko Jelčić, Luka Dragić, etc.
Synopsis
The film consists of three stories whose structure and interconnections we discover throughout the film. The main characters are a general who feels a strong desire to commit suicide, disappointed in what Croatia has become, a minister in the Government of the Republic of Croatia who, without a court verdict, imprisons himself in a cell because assessing that his place is there, as well as a group of parents of different nationalities (Croats, Serbs and Bosniaks) who, by excavating dead presidents of the Republic of Croatia and the Republic of Serbia, want to force the governments of these countries to finally find their children who disappeared during the war.
About the authorv
Vinko Brešan was born in 1964 in Zagreb. He studied comparative literature and philosophy at the Faculty of Philosophy and Film and TV Directing at the Academy of Dramatic Arts in Zagreb. His feature film debut How the War Started on My Island is one of the most watched feature films in Croatian cinemas since 1990. The films Marshall and Witnesses have been awarded at the Berlin and Karlovy Vary festivals. The Priest's Children comedy from 2013 was nominated for Best Comedy by the European Film Academy and distributed in 30 countries worldwide. He is one of the most popular theatre and film directors in Croatia.
Festivals and awards
SOFEST Festival 2019, Serbia – Gran Prix
Thessaloniki International Film Festival 2019 , Greece – Public Award Thessaloniki 2019