Within the FAST FORWARD Human Rights Film Festival Montenegro 2020, the Centre for Civic Education (CCE), in cooperation with Forum ZfD, organizes
the book promotion and virtual photo exhibition LIFE IN LIMBO- A BOOK OF SCARS
and a panel discussion A SHADOW OF THE 90s OVER THE BALKANS
14 December 2020, 12:00 – 14:00h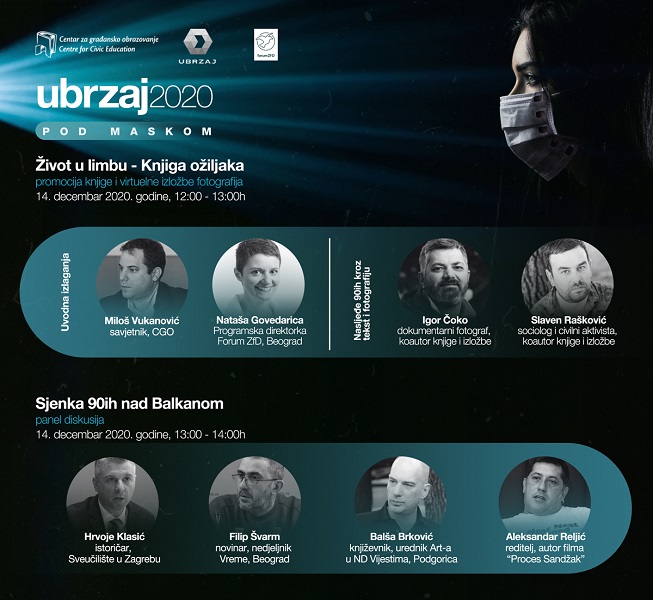 PROGRAMME
12:00-12:15 Introductory remarks
Miloš Vukanović, advisor, CCE
Nataša Govedarica, Program director of Forum ZfD, Belgrade
12:15-13:00 Heritage of the 90s through text, photography and film
Igor Čoko, documentary photographer, co-author of the book and exhibition "Life in limbo- a book of scars"
Slaven Rašković, sociologist and civil activist, co-author of the book and exhibition "Life in limbo- a book of scars"
Moderator: Miloš Vukanović, advisor, CCE
13:00 – 14:00 A shadow of the 90s over the Balkans
Hrvoje Klasić, historian, University of Zagreb
Filip Švarm, journalist, weekly Vreme, Belgrade
Balša Brković, writer, editor of Art in ND Vijesti, Podgorica
Aleksandar Reljić, director, author of the film "Sandžak process" which is screened on FAST FORWARD 2020
Moderator: Miloš Vukanović, advisor, CCE
The book "Life in limbo- a book of scars", by Igor Čoko and Slaven Rašković deals with Knin, a city that is nowadays reduced to a myth in Croatia, while the truth about its recent past has been greatly suppressed or represents a taboo. At the societal level, Knin is a traumatic centre or the conflict in the 90s. Knin is a symbol of the Serbian rebellion and secession, and then a symbol of an absolute Croatian victory, whereby both events were accompanied by mass crimes, murders and persecutions "of the others". On the other hand, at the level of everyday life, we will find not only countless private traumas of natives, returnees and immigrants persecuted from other parts of the former Yugoslavia but also an economic and social desolation, the trauma of the fact that the Croatian state has been tragically incapable for a quarter of a century to create conditions for a sustainable, let alone promising life in the regions it has fought for. The authors, Čoko and Rašković are born in Knin, and they found themselves in August 1995, like thousands of their fellow citizens, in refugee lines. Their monograph- accompanied by numerous gloomy black and white photographs- bravely and honestly cuts into myths, bringing the story about Knin and its inhabitants over the last thirty years.
The panel discussion "A shadow of the 90s over the Balkans" will bring together speakers from Montenegro and the region, known for their critical review of the last decade of the XX century. Through a conversation with Hrvoje Klasić, a historian from Zagreb, Fillip Švarm, a journalist from Belgrade, Balša Brković, a writer from Podgorica, and Aleksandar Reljić, director from Novi Sad, we will try to contribute to the deconstruction of the undesirable but constantly present heritage of the 90s. Through different perspectives of a common difficult past and the impact on today's post-Yugoslav societies, we will look at the visions and revisions of events from the 90s, as well as the impact that this period has on today's media and culture.
If you are interested to take part, please send your application to amina.n@cgo-cce.org by 20h00, on Sunday, 13 December 2020, to get timely instructions for the Zoom event.