FAST FORWARD 2020
Screening: 12/12/2020 / 20:00h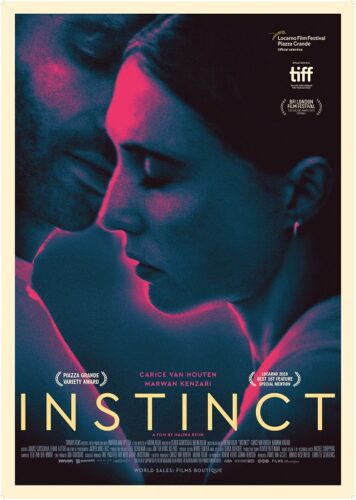 Halina Rejin / Netherlands / 2019 / 108′
Director: Halina Rejin
Screenplay: Esther Gerritsen, Halina Reijn
Editor: Job ter Burg
Cinematographer: Jasper Wolf
Sound: Max van den Oever, Oliver Pattinama, Tijn Hazen
Music: Ella van der Woude
Production: Topkapi Films, Man Up Productions, BNN-VARA
Producers: Arnold Heslenfeld, Halina Reijn, Laurette Schillings, Frans van Gestel, Carice van Houten
Starring: Carice van Houten, Marwen Kenzari, Marie-Mae van Zuilen, Pieter Embrechts, Ariane Schluter, etc.
SYNOPSIS
'Instinct' is a provocative psychosexual drama. Nicoline, an experienced psychologist who starts a new job at a penal institution when she meets a patient Idris, an intelligent serial rapist who committed number of heinous crimes. Nikoline became intrigued by the charismatic inmate who seems capable of manipulating people. The team of doctors is satisfied with his progress, but Nicoline does not have trust into him and she is trying to postpone his release. Between two of them starts power play which brings into question her professional relation with that inmate.
ABOUT THE AUTHOR
Halina Reijn is born in 1975, in Amsterdam, Netherlands. She was professionally trained at the Maastrihtu Academy of Dramatic Arts, and in 1997 she debuted on the scene as Ophelia u "Hamlet", directed by Theu Boermans. She continued to act on stage and made numerous noted pieces, but also played in film. In 2005, she published her first novel. As actrees, writer and director she got number of important awards in Netherlands. In 2019 she was named as one of the 20 most influential people by Dutch media. She writes columns for Dutch and Belgian media and is regularly a co-host on one of the best watched daily news shows on Dutch TV.
FESTIVALS and awards
Palm Springs International Film Festival 2020
Miami Film Festival 2020
Nederlands Film Festival 2020 – Winner Golden Film
Chicago International Film Festival 2019
Golder and Platin Film Netherlands 2019 – nagrada za najbolji film
Les Arcs European Film Festival 2019 – Cineeuropa Award and Young Jury Prize
Locarno International Film Festival 2019 –Swatch Art Peace Hotel Award – Special Mention and Variety Piazza Grande Award
London Film Festival 2019