FAST FORWARD 2021 / Projection:
14/12/2021 / 19:00 / Montenegrin Cinematheque / Podgorica
Yoni Goldstein, Meredith Zielke / USA, Brazil / 2020 / 89′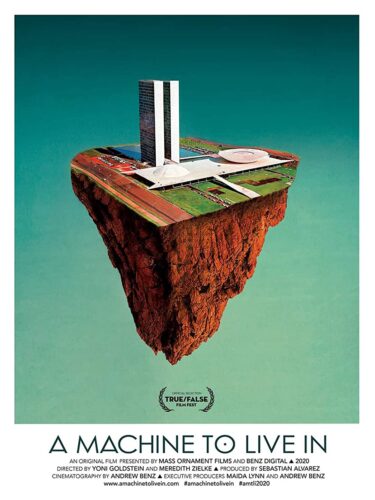 Director: Yoni Goldstein, Meredith Zielke
Screenplay: Yoni Goldstein
Editor: Iva Radivojević, Stefan Oliveira-Pita
Sound: Julian Flavin
Production: Mass Ornament Films, Benz Digital
Producers: Sebastian Alvarez
SYNOPSIS
A Machine to Live In is a feature-length documentary about the imaginative and material processes of building one's utopia. The film documents the history of highly controlled modernist planning in Brazil alongside radical projects in cult and mystical architecture. The film's attention radiates outward from Niemeyer and Costa's capital, Brasília, to the flourishing landscape of UFO cults, pyramids, monuments, and futurist projects. The film unfolds through Clarice Lispector's writings on the inauguration of Brasília and subsequent interviews with Oscar Niemeyer. Her literature describes a fraught ideology embedded into the city's concrete design while imagining ahistorical mythologies that may one day disrupt its order. A Machine to Live In attempts to locate where the desires for myth and reason sublimates in the building of utopian spaces. It collects vignettes and stories from architects and builders as they describe their ideal cities, both real and transcendent.
ABOUT THE AUTHORS
Yoni Goldstein is an Israeli born, Chicago based filmmaker, cinematographer, and editor whose work puts forward multi-sited transects of body, conflict, and diaspora. Developing multilayered approaches to the documentary, Goldstein has gone on to work on a number of socially critical film projects: from examining hybridized healing practices in the Northern Andes ("La Curación") to critical visualizations of trauma and disembodiment ("G-Loc: Vivid Dreamlets / Beautiful Places"). His films have circulated in numerous regional, national, and international festivals, conferences, and galleries.

Meredith Zielke is an award-winning filmmaker, educator, audio producer and the co-director of Standing Point Films, an independent media house for critical documentary and film-video art production. She is also the executive editor for SocialScope Productions, which produces the 50 Faggots docu-Web series. She holds degrees from the University of Michigan (BA in biology, film production and Spanish) and the School of the Art Institute of Chicago (Master of Fine Arts in film/video and new media).
FESTIVALS AND AWARDS
Tallgrass International Film Festival (USA) – Outstanding Editing
Ann Arbor Film Festival (USA)
FAFF The Fine Arts Film Festival (USA)
Montreal International Documentary Festival (RIDM)  (Canada)
São Paulo International Film Festival (Brazil)
Torino Film Festival (Italy)
Norwegian International Film Festival (Norway)
Jihlava International Documentary Film Festival (Czech Republic)