FAST FORWARD 2022 / Projections:
12/12/2022 / 21:00 / Montenegrin Cinematheque / Podgorica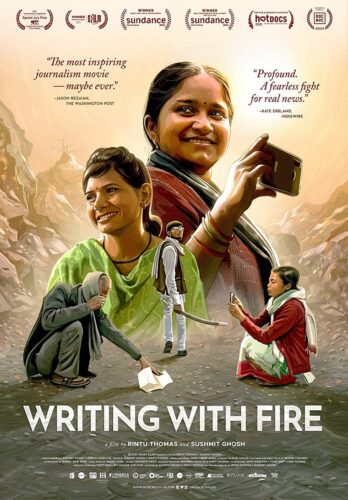 Rintu Thomas, Sushmit Ghosh / India / 2021 / 94′
Director: Rintu Thomas, Sushmit Ghosh
Screenplay: Rintu Thomas, Sushmit Ghosh
Editor: Rintu Thomas, Sushmit Ghosh, Anne Fabini
Music: Tajdar Junaid, Ishaan Chhabra
Cinematography: Karan Thapliyal, Sushmit Ghosh
Production: Black Ticket Films
Executive Producers: Patty Quillin, Hallee Adelman; Anurima Bhargava
Producers: Rintu Thomas, Sushmit Ghosh
Starring: Meera Devi, Suneeta Prajapati, Shyamkali Devi
 SYNOPSIS
The story of Khabar Lahariya, the only news agency in India run by Dalit (oppressed-caste) women. Armed with smartphones, Chief Reporter Meera and women journalists break traditions, be it on the frontlines of India's biggest issues or within the confines of their homes, redefining what it means to be powerful. Set in the backdrop of an increasingly polarized world, the film journeys with Meera and her band of sisters for five years, presenting the millennia old caste system in India, tradition, sexual violence against women and corruption.
ABOUT THE AUTHORS
Rintu Thomas is a director-producer from India. Over the last 10 years, her shorts have ranged from themes of environment and public health to women's rights and resilience of local communities towards climate change, as Dilli (2010) and Timbaktu (2012). Her films have travelled to film festivals across the world, are being used as advocacy tools for social impact, included in the curriculum of universities and exhibited globally, including at the United Nations Climate Change Conference.
Sushmit Ghosh is a director-cinematographer from India. In 2009, he co-founded Black Ticket Films, a production company whose films are being used as advocacy, impact and education tools by institutions across the world. Sushmit has also served on the jury of the National Awards in India.
FESTIVALS AND AWARDS
Amsterdam International Documentary Film Festival 2021 (Netherlands) – IDFA Audience Award
Aljazeera International Documentary Film Festival 2021 (Bosnia and Herzegovina) – Al Jazeera Documentary Channel Award
Bergen International Film Festival 2021 (Norway) – Checkpoints Award
Blackstar Film Festival 2021 (USA) – Audience Award – Best Documentary Feature
International Documentary Festival Visioni dal Mondo 2021 (Italy) – Best International Feature Documentary
International Human Rights Film Festival 2021 (Germany) – Human Rights League Prize – Best Feature Documentary
Krakow Film Festival 2021 (Poland) – Silver Horn Award – Best Film on Social Issues
Millenium Film Festival 2022 (Belgium) – Prix du Public Award – Best Feature Documentary
Social Impact Media Awards 2022 (USA) – Social Impact Media Award: Best Director (Sushmit Ghosh, Rintu Thomas, Black Ticket Films), Best Cinematography (Sushmit Ghosh, Karan Thapliyal)
The Hague Movies that Matter Festival 2021, 2022 (Netherlands) – Grand Jury Documentary Award – Best Documentary
Washington DC Filmfest 2021 (USA) – Justice Matters Award – Best Documentary
Academy Awards 2022 (USA) – Oscar Nominee