The Centre for Civic Education (CCE) and the Fast forward Human Rights Film Festival are pleased to announce the new film by Mike Lerner Pussy Riot – a punk prayer to be screened at the new edition of the Festival that will start on 10 December 2013 – on the occasion of Human Rights Day.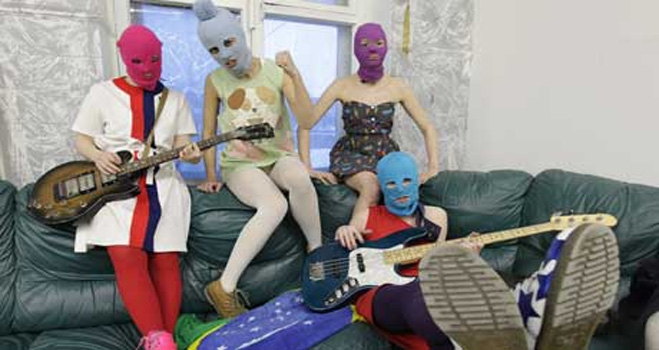 Filmed over the course of six months, the film presents the story of three young women, members of the feminist art collective Pussy Riot, who performed a 40 second political protest inside the main cathedral – Cathedral of Christ the Saviour – in Moscow. This led to their inprisonment on charges of religious hatred and culminated in a trial that has reverberated around the world. Nadežda Tolokonjikova, Marija Aljohina and Jektarina Samučevič were sentenced on 17 August 2012 to a two-year-imprisonment for hooliganism. The Russian court has recently rejected the request from the singer of this punk group, Marija Aljohina, for an early release. Before the announcement from the court, Ms Aljohina entered a hunger strike as she had not been allowed to attend the meetings of the court that would decide on her request to an early release. The jury accepted the prosecutor's opinion that "she does not repent for her crime and did not respect prison's rules and conduct".
With unparalleled access to characters and exclusive footage, the film by Mike Lerner presents the real people behind the famous coloured balaclavas.
With the Fast Forward Human Rights Film Festival, the Centre for Civic Education (CCE) wants to pin Podgorica on the cultural map of the region that has been nurturing for years this kind of festivals and events. The aim is to let the public familiarise with recent production of engaged documentary films, but also to make aware and inform vulnerable society of post-conflict regions to the issue of human rights, whose violation made this region so famous in the eyes of the world, i.e. the Western Balkans. An excellent programme will be organised for the audience of Podgorica at the Montenegrin National Theatre (CNP) with amazing films of new production that have been granted numerous nominations and awards around the world.
Nikola Đonović, programme coordinator