FAST FORWARD 2022 / Projections:
13/12/2022 / 21:00 / Montenegrin Cinematheque / Podgorica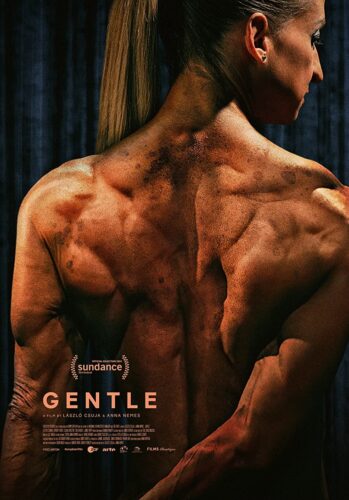 László Csuja, Anna Nemes / Hungary / 2022 / 92′
Director: László Csuja, Anna Nemes
Screenplay: László Csuja, Anna Nemes
Editor: Attila Csabai
Music: Tamas Kreiner
Cinematography: Zágon Nagy
Production: Focusfox Kft
Producers: András Muhi, Gábor Ferenczy
Starring: Eszter Csonka, György Turós, Csaba Krisztik
SYNOPSIS
Edina, a female bodybuilder is ready to sacrifice everything for the dream she shares with her life partner and trainer Ádám – to win the Miss Olympia. The odd love she finds on her way makes her see the difference between her dreams and her true self. Meanwhile, she has a strange relationship with a mysterious man. The meeting changes everything that she believed in until then.
ABOUT THE AUTHORS
Anna Nemes is a Hungarian visual artist whose paintings have been exhibited in solo and group exhibitions across Europe since 2010. Szelíd / Gentle is her first fiction film.
László Csuja was born in Debrecen, Hungary in 1984. He is a writer and director, known for Virágvölgy / Flower Valley (2018), Nine Month War (2019) and the latter Szelíd / Gentle (2022).
FESTIVALS AND AWARDS
Brussels International Film Festival 2022 (Belgium) – Winner 'Special mention – Directors' Week'
Cleveland International Film Festival 2022 (USA) – Winner – George Gund III Memorial Central and Eastern European Film Competition
Raindance Film Festival 2022 (UK) – Discovery Award – Best Debut Feature
Palić Film Festival 2022 (Serbia) – Special Mention – Feature Film