Fast Forward 2017 / Projections:
13. 12. 2017 / 20:30h / KIC – Dodest Scene / Podgorica
15. 12. 2017 / 20:00h / Cinema Boka / Kotor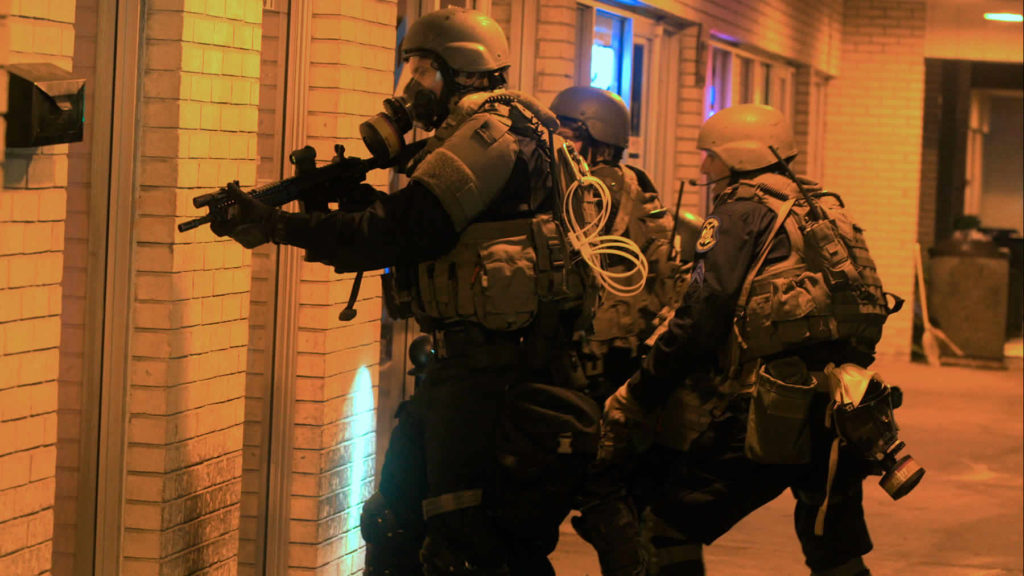 Craig Atkinson, USA, 2016, 72′
Director: Craig Atkinson
Director of photography: Craig Atkinson
Editing: Craig Atkinson, Laura Hartrick
Producer: Laura Hartrick
Synopsis
Starting on the streets of Ferguson, Missouri, as the community grapples with the death of Michael Brown, Do Not Resist offers a stunning look at the current state of policing in America and a glimpse into the future.
The Tribeca Film Festival winner for Best Documentary puts viewers in the center of the action — from a ride—along with a South Carolina SWAT team and inside a police training seminar that teaches the importance of "righteous violence" to the floor of a congressional hearing on the proliferation of military equipment in small—town police departments — before exploring where controversial new technologies including predictive policing algorithms could lead the field next.
About the author
A multi – faceted documentary filmmaker, Craig Atkinson is a notable producer, editor and cinematographer. Craig holds a MA in visual Media Arts from Emerson College. Do Not Resist is his first feature documentary as a director.
Festivals and awards
Beldocs (Serbia)
Winner 2017 Social Impact and Media (SIMA AWARDS) – Best Documentary Feature Editing Award
Tribeca Film Festival (USA) – Grand Jury Best Documentary Feature
Hot Docs Film Festival (Canada)
Montclair Film Festival (USA)
Maryland Film Festival (USA)
DOXA Film Festival (Canada)
Telluride Mountainfilm Festival (USA)
Human Rights Watch Film Festival New York (USA)
AFI Silverdocs (USA)
2016 Indianapolis Film Festival (USA) – Grand Jury Best Documentary Feature
Traverse City Film Festival (USA)
Dokufest (Kosovo/Kosovo)
True Orleans Film Festival (USA)
Camden Film Festival (USA)
Zurich Film Festival (Switzerland)
Bergen International Film Festival (Norway)
Downtown LA Film Festival (USA) – Grand Jury Best Documentary Feature
Antenna Documentary Film Festival (Australia)
Mill Valley Film Festival (Canada)
Bellingham Film Festival (USA)
Hot Springs Film Festival (USA)
Emerson LA Film & Media Festival (USA)
Chicago Film Festival (USA)
Philadelphia Film Festival (USA) – Audience Award Honorable Mention
International Film Festival of Curitiba Biennial
Loft Film Festival (USA)
Dok Leipzig (Germany)
Denver Film Festival (USA), Maysles Brothers Best Documentary Award
Brattleboro Film Festival (USA)
Kassel Dokfest (Germany)
Stockholm Film Festival (Sweeden)
MIRA Film Festival (Germany)
Hamptons Take 2 Documentary Film Festival (USA)
This Human World: International Human Rights Film Festival (Austria)
Watch DOCS, Human Rights in Film (Poland)
2017 DocPoint Film Festival Helsinki (Finland)
2017 Human Rights Weekend (The Netherlands)
Screenpeace Film Festival (USA)
Frozen River Film Festival (USA)
Pan African Film Festival (USA)
Bellingham Human Rights Film Festival (USA)
Sedona International Film Festival (USA)