Podgorica, PR Press Service – Centre for Protection and Research of Birds (CZIP), Zenepa Lika and Dr Milena Popovic Samardzic got the Centre for Civic Education (CCE) awards for affirmation of human rights and civic activism within the X jubilee edition of the FAST FORWARD Human Rights Film Festival Montenegro.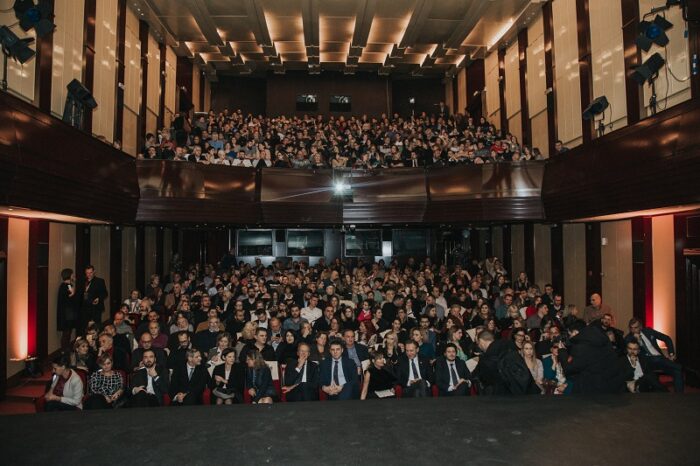 Tonight, the Festival opened Montenegrin premiere of the film 'Diary of Diana B', directed by Dana Budisavljevic, the first woman who won the Golden Arena for Best Director at the Pula Film Festival since 1957.
CCE Executive Director, Daliborka Uljarevic, said that in the first decade of the FAST FORWARD Festival valuable stories were presented through the achievements of the authors who, as she emphasized, did not close their eyes to the most difficult issues of their everyday life.
'We have also opened the door for regional cinematography to speak directly to the Montenegrin audience in the three cities – Podgorica, Kotor and Berane – on topics that hurt us and our neighbours the most. And these were not solely the painful issues, but also the films celebrating heroes and heroines of fight for human rights around us and amongst us,' said Uljarevic.
According to her, FAST FORWARD Festival is also an encouragement to Montenegrin authors to 'uncompromisingly, through their films for, advocate rights of those who cannot do it themselves and whose fate without film remains unknown'.
'On the occasion of the jubilee, we also enriched the programme with series of panel discussions on several neuralgic points of the Montenegrin struggle to establish modern concept of human rights – rights of LGBT persons, gender equality and dealing with the past. Tomorrow we will have the opening of the exhibition 'Behind the Seven Camps – From Crime of Culture to Culture of Crime' by Hrvoje Polan, which comes to us with the support of our friends from the German ForumZfD,' stated Uljarevic.
She pointed out that the human rights state of affairs in Montenegro is not at the satisfactory level.
'More concerning than that knowledge and feeling is the fact that we continue recording negative tendency, although on the way to the EU, things should have been moving toward different, better direction,' Uljarevic claimed. As she recalled, the CCE's researches indicate that, in addition to existing discrimination, there are also new forms 'so we have political opponents positioned at the top of the discrimination scale.'
'And if we, as a society, do not address this suppressed internal crisis timely and effectively, we risk slipping into dangerous social and political systems, which comes also as warning in some films that we will have the opportunity to watch,' assessed Uljarevic.
She believes that 'each of us can create our own valuable story.'
"Just if we believe in ourselves. And these films are helping us to recover faith into ourselves, people, justice, beauty and love. Quite enough to walk further proudly and to stand for our rights and the rights of those who cannot do that,' Uljarevic underlined.
Executive Director of the Center for Protection and Research (CZIP), Jovana Janjusevic, upon receiving the award said that Ulcinj Salina has been one valuable and long story for more than a decade. 'Our first love and our second home. On behalf of one hundred thousand different beaks and twice as many colourful wings, thank you,' Janjusevic said.
Zenepa Lika stated that she wanted to share the award with all free and active citizens of Montenegro who are not in the public eye, but are active, vigorously fighting the battle for better and more humane world on their own way. 'For healthy environment, they do not close their eyes to injustice, they raise their voice and point to human rights, point out that human rights are universal rights, even here in Montenegro,' stressed Lika. She deems that the free spirit is spreading. 'There are more of us every day, and I hope that every year there will be more of us, because it is vital. We, the citizens, are the ones who can change our consciousness for the better. Only with active citizenship we can defend universal values, human rights, environmental rights and nature protection. I believe in our strength,' Lika stated.
Milena Popovic Samardzic said that she was convinced that she would not have received this award if she hadn't had great support of her colleagues. 'Our struggle is not only a fight for the status of our profession, but for the value system which we want to be promoted in our country,' emphasized Popovic Samardzic.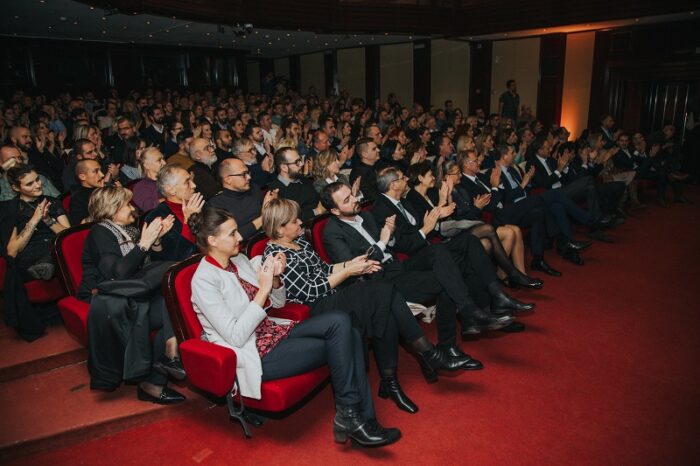 Great hall of Montenegrin National Theatre (MNT) was too small to accommodate all those who came tonight to premiere of the film 'The Diary of Diana B', hence organizers scheduled another screening on Saturday, 14 December, at 15h00 at MNT.
FAST FORWARD Festival in Podgorica will last until 14 December, in Berane it will opened on 11 December, while the opening of the festival in Kotor will be on 13 December.
All information about the Festival ae available at the www.ubrzaj.me.